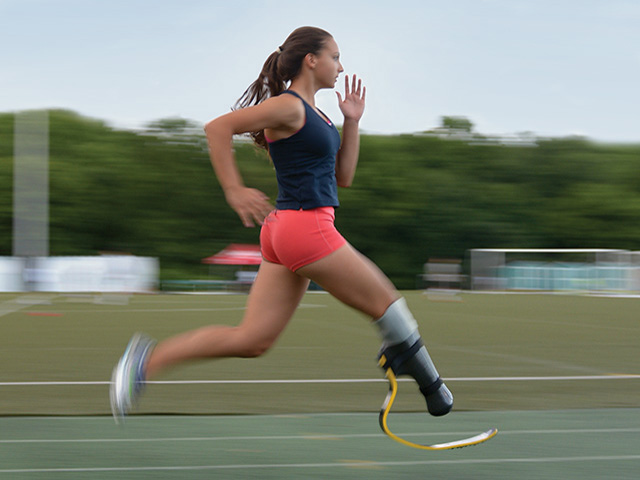 Road to Rio
Canada has a storied history of amputee track and field stars, the most notable being six-time Paralympian Arnold Boldt who introduced a nation to the abilities of athletes with a disability.
Boldt was 20 years old in 1976 when his prosthetist informed him of a Canadian competition for athletes with disabilities that would send the winners to the first Olympiad that included amputee competitors from around the world. Boldt captured the gold medal in the Olympiad's high jump event. In fact, he won high jump gold at every Paralympic Games from 1976 to 1988 and is also a three-time long jump Paralympic champion. He peaked with a world record high jump of 2.04 metres at the 1981 World Championships, a height that many of his able-bodied contemporaries strived to reach.
Today, sixteen-year-old track sensation Marissa Papaconstantinou is doing just as Boldt did 40 years ago... introducing new generations of Canadians to the abilities of parasport athletes. Born without a right foot, the Toronto teen is an accomplished goalie in the Ontario Youth Soccer League's top division and a budding star on the track with her sights set on the 2016 Paralympic Games in Rio de Janeiro, Brazil, in the 100m and 200m events. Here's what Papaconstantinou had to say about her pursuit of Paralympic glory.
Q. How did you get involved in parasports?
MP. Back in Grade 7, I got my first prosthetic running blade and started training on it. I've always competed in able-bodied sports and para coaches noticed my potential.  
Q. Athletic career highlights?
MP. Setting the Canadian record for my amputee class in the 100m in 2013. Setting a new Canadian record in the 200m in 2015. Representing Canada at international competitions.  
Q. Challenges you face as an amputee sprinter?
MP. There are challenges to overcome on an everyday basis. I try to stay positive when things don't work out, like when my equipment malfunctions and when injuries occur.  
Q. What are your goals in parasport?
MP. To compete at the Paralympic Games and to represent my country in an outstanding way.  
Q. What is an average week of training like?
MP. I train about five days a week. Workouts or training sessions can range from two to four hours.   
Q. What has competitive sport taught you about yourself?
MP. I've learned how to be a leader, and not just to lead others, but to lead myself in the right direction. I learn skills every day in sport that I can apply to everyday life. I've also learned that if people don't respect you for your differences, it's their problem and not yours.  
Q. What inspires you?
MP. The will and want to do better each day. They say lift up yourself so you can lift up others. That's the reason why I want to always push for better, not just for myself but for other people too.
Q. Advice for other young athletes like yourself just starting in parasports?
MP. Join parasport because it is truly unlike anything else; it's different from able-bodied sports because everyone here wants you to succeed and other athletes always support you.  
Q. Who has helped you succeed in parasport?
MP.. My parents, my coaches and the people in the prosthetics department at Holland Bloorview Rehab Centre have all played a really big role in my success. Without their contributions, many of my accomplishments would not be possible.  

For more on the 2016 Paralympic Games visit www.paralympic.ca.