First Amputee to Fly in Zero-Gravity
Author: Beth Rose, BBC Ouch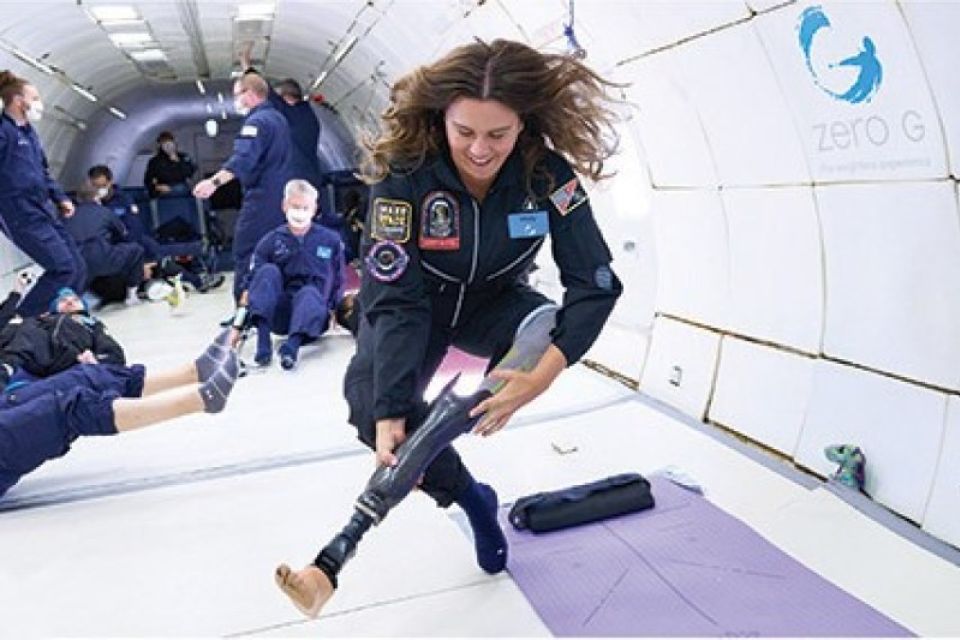 Space firm Mission Astro Access challenged the perception that space travel is only for some by sending a disabled crew on a zero-gravity flight.
"It was magical," says Sina Bahram of his first experience of weightlessness. "I've wanted to do this since I was four years old, but the underlying assumption was 'that's totally impossible'." The blind computer scientist from North Carolina was one of 12 ambassadors with disabilities selected to experience a zero-gravity flight while conducting experiments looking at inclusive space travel.

"It can benefit the entire aerospace community," Bahram says, explaining that adjustments made for people with disabilities makes everyone's lives easier.

In October, the Mission Astro Access crew travelled to Long Beach, California, and boarded a Boeing 727 for a parabolic flight. Sometimes referred to as the Vomit Comet, the plane flies in large arcs. As the plane tips over the arc it goes into free-fall creating weightlessness for about 20 seconds. Ambassador Mary Cooper always dreamed of space travel but thought it to be impossible for her. The aerospace engineering and computer science student at Stanford University was born with fibular hemimelia, where part or all of the leg bone is missing. Cooper had her left leg amputated below the knee as a baby and uses a prosthesis. "It's one of my favourite things about me now," she says.

Each crew member worked on specific experiments in line with their disability to see how the industry could move forward, inclusively. Cooper's experiment gave her permission to cartwheel. She wanted to prove she could station keep – manoeuvre around the cabin safely – with and without her prosthetic leg.

Mission Astro Access isn't alone in this space race. The European Space Agency called for six para-astronauts this year as well. Mission Astro Access' 12 ambassadors will now also "rethink life on earth" and encourage greater inclusivity within the science, technology, engineering, and mathematics (STEM).
---
thrive magazine - brought to you by