If You Build It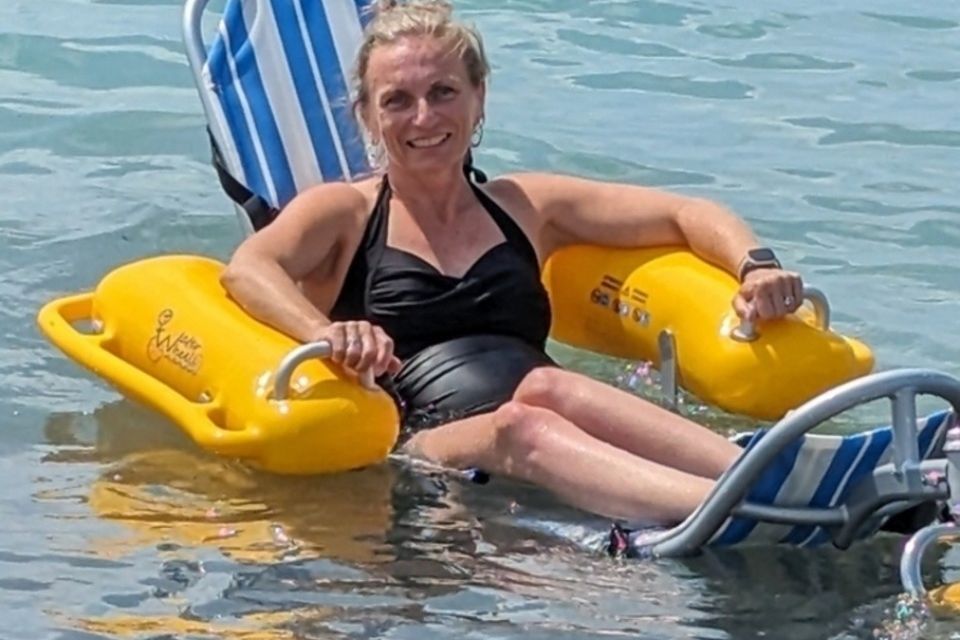 31. That's how many times my beach wheelchair was used at the Goderich Waterfront in just four weeks since it was put into action.
31 different times, someone signed it out, for free, and used my water wheelchair to roll across the sand and into the lake.
I'm totally blown away. When I met with the mayor of Goderich, Trevor Bazinet, to talk about how we can make our community even more accessible than it already is; he gave me that news and I cried tears of joy.
When I donated that beach wheelchair to the town it was partly to get it out of the shed, partly because I wanted it to be used by others and also so it would be easier for me to use when I wanted to go in the lake (i.e. it was already at the beach).
The news of that donation hit the media and they ran with it - London Free Press (front page!), CBC Afternoon Drive, and CTV's "good news of the week". Wow, people love a good news story! Beyond my expectations (I had none - this was NOT to achieve anything more than freeing up space in my husband's shed).
It really is a classic Field of Dreams example: "If you build it, they [he] will come". We "built" access to the lake and people who need it, well, they came!
And let's not forget to talk about the impact that has on the rest of the community. Speaking from my own experience, when I go to Goderich for something, I also end up spending some money - be it groceries, coffee at Cait's Cafe, thrifting or ice cream - there's always some money that leaves my wallet and stays in the town.
So that then begs the question, what else can be "built" so people can come, participate and enjoy what life has to offer?
Here's a hint: Just ask.
By Julie Sawchuk. Learn more about Julie at
Sawchuk Accessible Solutions.
---
thrive magazine - brought to you by