Adaptive Sit Skiing
Author: Kimberley Barreda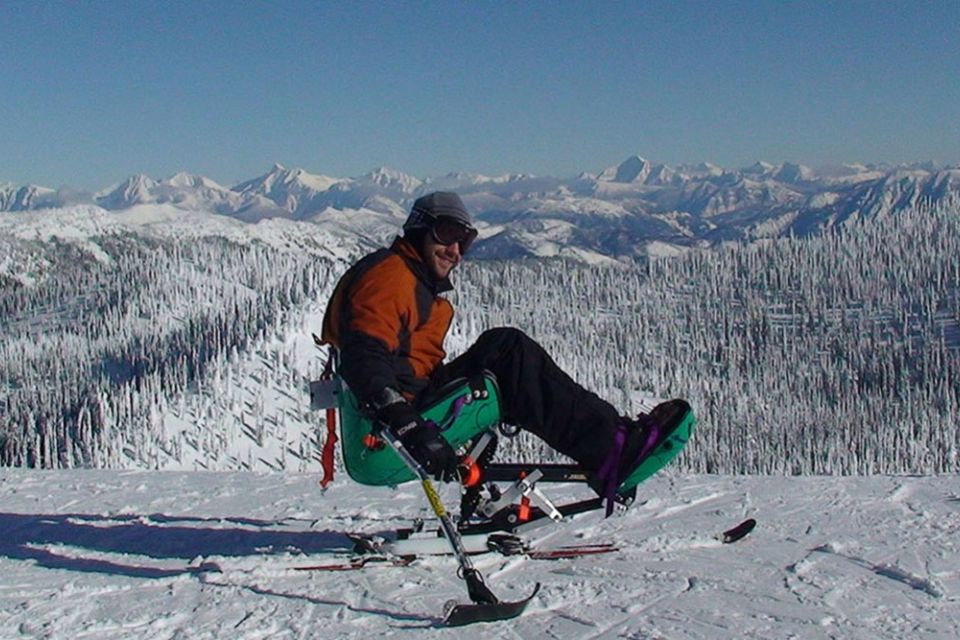 I remember the first time I ever skied. It was with the local adapted program in an old, beat-up Mogul Master with a bolted-on ski.
Even though there were six volunteers with me and we were on the "bunniest" of bunny hills, I was terrified.

As a life-long double above-the-knee amputee, I had never been to the middle of nowhere, on snow to boot. I didn't know where I was and I had no idea how to move the ski. I'm pretty sure the only words I said the entire time were "DON'T LET GO!"

Every inch of movement down the non-existent fall line made me certain that I was going to die. The day wasn't a total wash though because I was wearing a really cool hat.

What I remember most from that day is the fact that I was able to do something I had never ever thought possible, and that one hour around the bend on Huckleberry Patch was the beginning of a whole new way of life.

I skied a few times a month over the next two years, all really short sessions, with borrowed equipment. Since it didn't fit me, I struggled to ski well and it lost its shine for me. The cost and lack of success made me lose interest. Then one day everything changed. I lucked into my very own mono-ski.

It was a huge, extremely heavy Shadow with missing parts and frayed straps, but it was mine and I modified it to fit me as best as possible. I also met up with an adapted ski instructor who just happened to be a mono-skier. Hmm... a new ski and a mono-skiing ski instructor was an opportunity that I couldn't pass up. I bought a pass and skied nine days that winter in a 40-pound ski that was bigger than me.

The next year I shelled out three grand for a custom ski and was insanely proud of my oh-so-awesome 26 days on the hill.
---
The next year I shelled out three grand for a custom ski and was insanely proud of my oh-so-awesome 26 days on the hill.
---
That was then, this is now
That was 2002. Since then, I've morphed from a sidewalk-rolling, path-taking, city girl to a 70-day-a-year, raving ski lunatic addicted to all Warren Miller ski-porn videos in existence. I have a perfectly-fitted (and appropriately duct taped) Revolution Pro-Comp ski, modified (by me) Superlite outriggers, and an envy-enducing selection of skis from a tiny K2 twin tip to a fully-custom Big Mountain Ski Company double-rocker all-mountain ski that was specifically designed for me.
The final pieces to the puzzle are my ridiculously-cool,
spacebug goggles (blitzgear.us)
and a group of friends that loves to ski as much as I do.
Trending Up
Adaptive skiing and snowboarding are among the fastest-growing sports in the world. The popularity is reflected in the ever-increasing availability of equipment, from just four sit-ski models in the 1980s to over 30 today, plus a whole range of other adaptive gear for snowboards, getting onto the snow with crutches or a wheelchair, prosthetic components with ski modes in the programming, and even snow taxis for those who have little to no independent mobility but want to enjoy the thrill and fun of skiing.
Resorts around the world are adding to their fleets of adaptive ski gear. Professional Ski Instructors have "adaptive" certifications and clubs and programs are operating pretty much anywhere you can find snow.
Participation levels range from never-took-a-lesson to recreational ski club memberships to Paralympic and World Cup competitors in alpine, nordic and biathlon and the ever-popular mono-skier X at the X-Games. There are even groups and organizations that will help you pay for your skiing and snowboarding activities including gear and expenses. For videos and pictures and in-/depth information on resorts, ski lessons, clubs and events, head over to
https://adaptiveskiing.net
and browse the Guides.
By Kimberley Barreda,
https://unlimbited.com,
https://adaptiveskiing.net,
https://accidentallyaccessible.com.
---
More Health & Activity Articles
thrive magazine - brought to you by